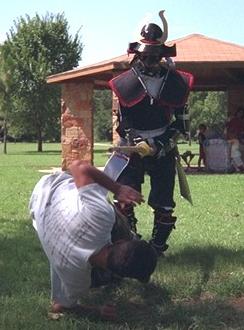 Ninjutsu as a martial tradition traces its roots back a thousand years to the mountains of Japan. The art developed over many centuries, combining devastatingly effective personal defense skills with other diverse skills such as healing, survival, disguise, intelligence gathering, and many others.
Ninjustu represents many unarmed and weaponry methods of old Japan. These methods include various combat strategies, leaping, walking, hiding, running, swimming, evading, striking, grappling, and special skills. Weaponery skills include not only the use of various conventional and unconventional weapons, but taking, disarming and grappling. Though steeped in history and tradition, the principles of ninjutsu make it a very "real" and effective tool for modern self-defense.
Ninjutsu is not a "typical martial art". It goes far beyond simply kicking and punching. It becomes a way of approaching the world and a way of life, which is referred to as "ninpo". Ninpo is not just a system of fighting but much more — it is a system of living, and a very personal art of self-defense. Ninjutsu becomes part of the student, part of their very being, and can be applied in all aspects of life. It is a very powerful system that can improve any person's life physically, mentally, and spiritually. Through physical conditioning and mental development, the student of Ninjutsu becomes better prepared to triumph in any situation. Through repeated successes in training, the student develops self-confidence, self-responsibility, and self-sufficiency.
The modern art of Ninjutsu is traced back through a lineage of sokes (grand masters) which is currently headed by Masaaki Hatsumi, of Noda City, Japan. The Kamiyama dojo is under the guidance of Shihan (master teacher) Ralph Severe, a direct personal student of Soke Hatsumi. Through the Kamiyama dojo, the student experiences six ryuha (schools) of ninjutsu — Gyokko ryu, Kukishinden ryu, Togakure ryu, Takagiyoshin ryu, Koto ryu, and Shinden Fudo ryu.