Welcome to the Marshfield Kamiyama Dojo, training the traditional Japanese warrior arts of ninjutsu in the Ozark mountains since the beginning of the millenium.
The Marshfield Kamiyama Dojo was established in April of 2000, by Robert Kesterson. Robert grew up in Marshfield and learned of Ninjutsu from the writings of Stephen K. Hayes and others. He left Marshfield in the mid 1980's in search of Ninjutsu training. He eventually found it in Dallas, Texas, in training with Shihan Ralph Severe "Kamiyama", one of the world's most gifted martial artists. Under the guidance of Shihan Severe, Robert's eyes were opened to an entirely new perspective on the martial arts.
After training with Shihan Severe for several years, Robert was granted a Shidoshi-Ho associate teaching license under Shihan Severe. Robert began teaching in 1997, in Mesquite, Texas. In 2000, Robert returned to Marshfield, bringing the ancient fighting art back to the Ozark mountains with him. He currently holds a yondan (fourth black belt) in the Kamiyama Dojo Ninpo Bugei Kobujutsu Jissen Keiko system, Okuiri in Ninpo Happo Bikenjutsu and Bojutsu, a nidan (second black belt) in Bujinkan Budo Taijutsu, and Basic Instructor License in Pocket Stick.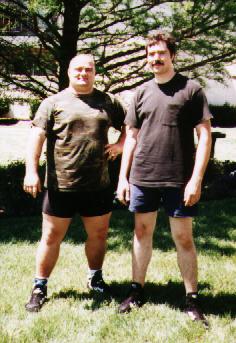 Kamiyama (left) with Robert (right) at an
outdoor training session in Carrollton, Texas.